The New Alternative to Tommy John Surgery – UCL Repair with Internal Brace
The baseball world has been buzzing regarding a potential new surgery to repair the Tommy John ligament, rather than the traditional reconstruction, that has the potential to reduce the time to return from surgery.
The new procedure involves repairing the damaged ligament and reinforcing it with a collagen-coated fiber tape in contrast with the traditional UCL reconstruction that involves drilling tunnels in the bone and using a graft from a tendon in your arm or leg.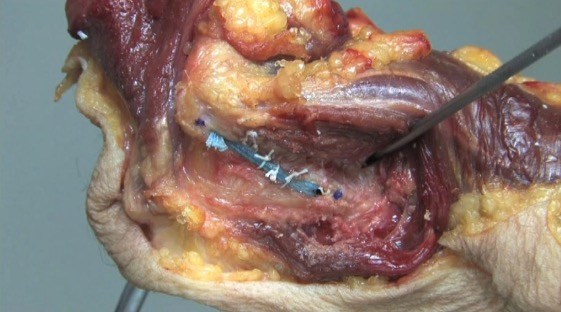 The new UCL repair with internal brace is less invasive and offers hope that the new procedure can reduce the time it takes to return from surgery while providing similar effectiveness of the traditional procedure.
UCL Repair and Augmentation with Internal Brace
The following presentation by Dr. Jeff Dugas from ASMI in Birmingham, AL, discusses the procedure, early results, and what we currently know about the procedure.  Dr. Dugas is one of the pioneers of the new procedure.
The following video is just one of the many amazing presentations from the ASMI Injuries in Baseball Course, which is now available online through Elite Baseball Performance:
Is The New Procedure a Miracle?
The mainstream media has been calling the new UCL repair with internal brace procedure "the next miracle," but like everything else, we need to take what we read in the media as entertainment, not fact.  The media loves to sensationalize a topic, and this is no different than what is occurring with the new procedure.
The truth is that this procedure is still new, although promising.  Results are coming in and have been satisfactory to date, but realize that very strict patient criteria has been used so far to date.  We do not have a very large sample size of higher level baseball players just yet, though they are coming.
Furthermore, we do not have long term data.  Short term data appears promising, but we have a saying in scientific research, "if you want to report good results, just look at short term data."  We don't know the longevity of these repairs and if they prove to be as reliable and durable as UCL reconstruction.
So until we have a larger sample of data and a longer follow up time to analyze the effectiveness, the procedure should still be considered experimental at this time.  The traditional Tommy John procedure, which is more invasive and reconstructs the UCL ligament, is still the current gold standard with decades of research supporting it's effectiveness.
Who's a Candidate for The New Alternative to Tommy John Surgery?
While the traditional Tommy John reconstruction will likely remain the gold standard for some time, there are some people that may be great candidates for the new alternative UCL repair with internal brace procedure.
Younger baseball players with open growth plates can not perform the traditional procedure as it involves drilling of the bones in the arm and may impact the growth plate.  Baseball players with strict timelines, such as a college or high school baseball player going into their senior year, may also be good candidates.  Other athletes, such as gymnasts, football players, and those that have had a traumatic injury to the UCL may also be good candidates.
Who's NOT a Candidate?
I recently spoke with Dr. Dugas about this exact topic.  As he has gained more experience with the procedure, we're getting better at determining who is NOT a good candidate.
It really comes down to tissue quality.  If you have been wearing your ligament down for some time with past episodes of elbow pain or even ligament sprains, the tissue quality is probably not good enough to support the repair.  In addition, if you have boney changes in your ligament, such as ossicle formation from chronic stress and past injuries, the tissue quality is likely not adequate enough to support the procedure.
In fact, Dr. Dugas told me he is going into these procedures telling the patients that they may wake up and have had the full Tommy John reconstruction.  When they get in the elbow, they may feel the tissue quality is too poor.  But with time and experience, they are finding they are doing well figuring this out based on the x-rays and MRI prior to surgery.
At this time, I am personally finding it hard to recommend this new procedure for most baseball players.  I'm never a fan of adopting newer or experimental procedures when a option with good results and reliability exists.  The traditional Tommy John procedure is still my first recommendation for players that wish to continue their career development.
I hope in the future my opinion changes, as the hope of returning pitchers to baseball sooner than a traditional Tommy John procedure is exciting.
I do believe this is just the beginning.  New procedures, techniques, and biological advancements will emerge and our management of baseball pitchers with Tommy John injuries should only continue to improve.
ASMI Injuries in Baseball Course
EBP has just released an online version of the ASMI Injuries in Baseball Conference, featuring world-renowned speakers such as Dr. James Andrews, Dr. Glenn Fleisig, Kevin Wilk, Mike Reinold, and several MLB team physicians, athletic trainers, and strength coaches.  This is the premier conference for baseball-related injuries and performance enhancement, with topics detailing pitching biomechanics, baseball-specific functional anatomy, clinical examination, surgical management, injury rehabilitation, and performance enhancement for baseball players.
The course contains the most cutting edge information from the leaders in baseball sports medicine, including the above presentation by Dr. Jeff Dugas.
Mike Reinold, DPT, SCS, CSCS, is a world renowned physical therapist and performance enhancement specialist and the former Head Athletic Trainer and Physical Therapist of the Boston Red Sox. He is currently the owner of
MikeReinold.com
and
Champion PT and Performance
just outside Boston, MA.
Latest posts by Mike Reinold (see all)
https://elitebaseballperformance.com/wp-content/uploads/2017/06/1.jpg
628
1200
Mike Reinold
http://Elitebaseballperformance.com/wp-content/uploads/2016/12/ebp-green-transparent-horizontal-logo-300x96.png
Mike Reinold
2017-06-20 06:00:11
2021-04-30 17:15:52
The New Alternative to Tommy John Surgery – UCL Repair with Internal Brace